Introduction
A comprehensive creative support hub for the Mullae artist community and experimental art
The Seoul Art Space Mullae is a creative space newly constructed to promote the ecosystem of culture and art in the Mullae artist community in 2010. The Mullae artist community is establishing itself as a comprehensive creative space for culture and art with its new supportive features for domestic and foreign artists with orientations toward experimental and fusion art in addition to the artist community. The space has nine spaces for hosteling, a black box theater, and a multipurpose space that also serves as an exhibition hall.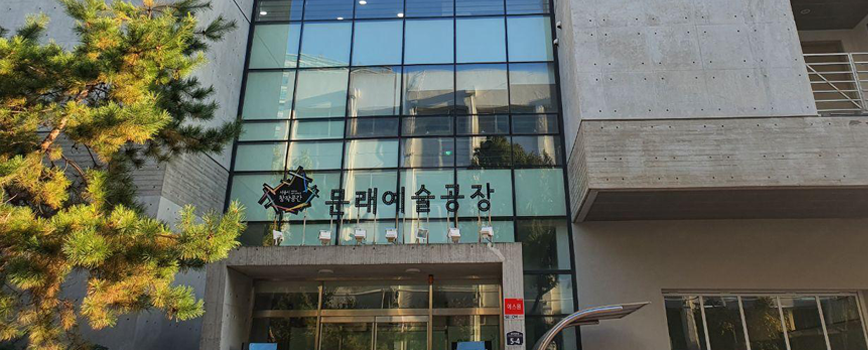 Major business
Community Arts Ecosystem Capacity Building Program MEET
The MEET program aims to foster creative capacity of members of the local arts ecosystem including artists (organizations) and planners based in Mullae area (around the Seoul Art Space Mullae) and to find new ideas. Another objective of the program is to activate arts and cultural activities of the local arts ecosystem by backing creative practices and presentations, exchanges among artists, and programs to communicate with the citizens and local business people.
Promising Artists Support Project MAP (Mullae Arts Plus)
MAP is a unique project to the Seoul Art Space Mullae dedicated to supporting experimental, creative projects of young artists in interdisciplinary arts, music/sound, and tradition-based creative arts who have been active for 10 years or below since their debut. By providing funding for production, space and equipment, mentoring and critique, and networking, the MAP project sets the stage for diverse challenges and growth of promising artists.
Since its inception in 2010, MAP has written a new chapter for the Korean arts domain along with the young artist pioneers.
Arts Support Project – Music, Tradition, and Interdisciplinary Arts
Our arts support project is intended for music, tradition, and interdisciplinary genres of arts by means of specialized support programs including artwork support program focusing on individual works and performance organization fostering program that supports performance venues and organizations via matching.
Global Exchange Program
The Global Exchange Program seeks to lay a foundation for long-term global creative activities and build a collaborative environment and international network of artists by hosting a joint art creation workshop through exchanges of artists in partnership with the REM Theatre of Australia. In addition, since 2011, we have given an international sound art production workshop "Mullae Resonance" that showcases works of foreign sound artists to the Korean audience to build a global network and offer a platform to ensure continued international exchange and cooperation.
Facilities
Facility
Floor
Description
Studio M30
1
Shared workspace for large scale work and other purposes. The ceiling is high (5.1m), and wood and metal work equipments can be used via consultation.
Box Theater
2
Used for performance rehearsal and presentation and equipped with stage, lighting and sound system as well as dressing room and waiting room.
Recording Studio
3
Intended for sound recording and equipped with Protools HD and Cubase.
(※No full-time engineers, operators available)

Space for sound recording and recording production
PROTOOLS HD, CUBASE
AVID, MOTU interface available.

Video Editing Suite
3
For digital video editing.

Final Cut Studio 3, Adobe Production Premium CS5
Equipped with video editing equipment including HD Tape deck, HD camera, etc.

Cafe
3
Intended for a lounge for visitors and guests and community venue for artists. Equipped with a small bar and kitchen and arts books open to the public.
Seminar Room
4
Designed for exchanges, seminars and workshops of artists and planners. Tables and chairs are available.

Space for exchanges, seminars and workshops of artists/planners
Tables/chairs(for 10 persons), beam projector/screen

Artist Hostel
4
Hostel for short-term stay of artists who are visiting for global exchange and collaborative work. Each room has a bathroom (shower), single bed, chair and desk and wired Internet. Shared laundry room and kitchen are available.
Classification
Time
Fee (KRW)
Maximum
rental period
Box Theater
For rehearsal
Morning
15,000
1 month
Afternoon
20,000
Evening
20,000
1 day
150,000
For
performance
Rehearsal, setup, removal, etc.
2 weeks
Performance
1 day
200,000
For event/shooting (broadcasting/film/CF)
1 day
800,000
1 week
Studio
M30
For production (creation) (including shared equipment)
1 day
20,000
1 month
For arts event/education/seminar
1 day
50,000
1 week
For event/shooting (broadcasting/film/CF)
1 day
500,000
Recording Studio
(operator not included)
Morning
20,000
1 month
Afternoon
30,000
Evening
30,000
Video Editing Suite
Morning
5,000
1 month
Afternoon
5,000
Evening
5,000
Night
10,000
Video camera rental
Morning
20,000
Artist Hostel
1 month
1 day
10,000
※ V.A.T excluded.
※ Shared equipments and display systems and lounges are used free of charge, in principle, but consumables and repair due to careless uses are paid by the user.
Open hours
– Year long (except for New Year's Day, Lunar New Year's Day, and Chuseok)
– 09:00~22:00 (application needed in advance for uses at night)
Location
Address
5-4 Gyeongin-ro 88-gil, Yeongdeungpo-gu, Seoul
For more information, call