Introduction
A communal space for and by the citizens
The Citizens Hall is a communal space for the citizens to enjoy high quality performance and exhibitions, hold community meetings, and participate in the affairs of the City of Seoul, and located on the first and the second floors of the Seoul City Hall. It is designed as a convertible space that can serve various purposes for citizens including exhibitions, performances, debates, education, lounging, and play, as a space of "emptying" and "flexibility" to encourage citizens' participation. The B1 floor has three "Wide Open Lounges" for citizens' participation and the B2 floor has four halls including the Taepyeong Hall. All seven individual spaces can be rented out.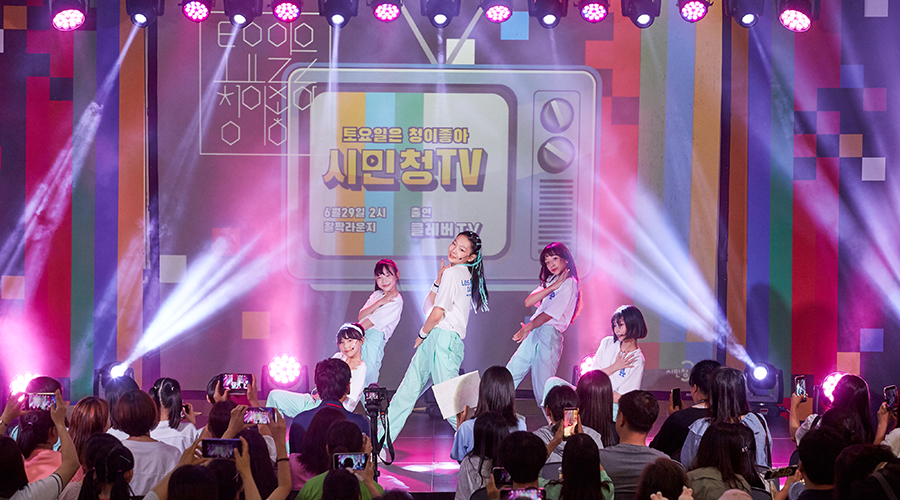 Topic
Slogan: Citizens' life venue which Seoulites make together and can enjoy together
Sub-title: Spaces of various expressions for various citizens
Working hours
Major features of the spaces in Citizens Hall
Name
Major services and programs
The first basement
Citizens Hall Information Center
Seoul Tourist Information Center
It provides information on Citizens Hall and various life and tour information on Seoul and is a one-stop information center for native and foreign tourists.
TokTok Design Store <danuri>
Products which social care enterprises like social enterprises and Pre-Bi centers made with their creative ideas are displayed and sold.
Dorandoran Cafe &
fair trade store Jigu Maeul
Cafe : Fair trade products are displayed and visitors can stop for a rest.
Citizens Plaza
It comprises the largest space in Citizens Hall and is a changeable multi-purpose space.
Various programs like Hanmaeum Salimjang, Citizens' Platform, Vitality Concert have been implemented.
Gungisi Relics Exhibition Hall
Relics and ruins which were discovered in Gungisi site while the new city hall was being built are displayed.
Sound Gallery
A sonic works gallery where visitors can appreciate through hearing and listening.
City Gallery
Includes a space to deliver the major policies of Seoul.
A Floating Cloud Gallery
Image works with no sound are displayed on the big screen on the ceiling.
Citizens Hall Gallery
A specially planned exhibition hall for photo exhibitions, painting and dance exhibitions, cartoon exhibitions and rental.
Seoul Bookstore
An exhibition hall to sell books related to Seoul in various themes, and to carry out a fairy tale narration program
The second basement
Taepyeong Hall
Holds a variety of policy discussions and major events like Citizens Hall wedding ceremonies.
Event Hall
Holds various events in which Seoulites can share pleasure like Citizens Hall wedding ceremonies (Traditional weddings).
Basrak Hall
A small-sized theater and concert room where small-scale performances and concerts are held.
Workshop Room
Holds diverse workshops and lectures where Seoulites are key participants.
Circle Room
Carries out children and adults experience programs and shows animations.
Major business
Name
Program introduction
Public Call for Submission
The Wave
The Wave is a program of the Seoul Citizens Hall, with a public call for art submissions. The name of the program means that "A new wave of arts begins at the Citizens Hall." We will select outstanding pieces of art in exhibition, performance, and workshop areas, in order to provide an artistic experience to the citizens who visit the Citizens Hall.
Daium
Daium is a program intended for invigorating the gathering of citizens, providing various types of support so that citizens can hold and participate in various types of gatherings. We provide a support program that includes the venues for gatherings, along with equipment and the invitation of experts for the gatherings of three or more citizens.
Spatial Support Program
The Spatial Support Program is a space support program by the Citizens Hall. In this program, a call for a proposal is issued twice a year (for the first and second halves); as a result of the call, we provide the available spaces for rent and other amenities, including the exhibition hall, performance hall, and workshop areas, free of charge.
Performances and Events
Seasonal Programs of the Citizens Hall
This is a seasonal event of the Citizens Hall, including exhibitions, performances, workshops, marketplace, and experiential programs. We are developing our programs under new themes for each quarter of the year.
I like the Hall on Saturdays.
"I like the Hall for Saturdays" is a participatory event for the citizens and is composed of various programs such as special performances by famous artists and citizen artists in various musical genres, campaign activities in cooperation between civilian and public organizations, special exhibitions, and experiential programs, etc. (Currently suspended due to COVID-19.)
Hanmaeum Marketplace
Hanmaeum Marketplace is composed of the 'Art Market' where you can find the handcraft items and design products made by citizens, and the 'Communication Market,' which features various participator and experiential culture programs. The culture experience programs and handcraft items are produced by the citizen participants themselves. Also, there are many free experiential programs for the citizens to join in and enjoy.
Revitalizing Concert ("The Show Goes On")
The Revitalizing Concert is a regular cultural performance program of the Citizens Hall in music, theater, dance, and many different genres of arts given by 'Citizens Hall Artists.' (Since 2020, "The Show Goes On" event has been going on in order to provide support to the citizen artists who lost opportunities to perform due to COVID-19 so that they can produce music videos. You can enjoy their performances and interviews on Citizens Hall TV.)
Baseurak Concert
Baseurak Concert is a monthly concert program that is free of charge. The concert is held in 'Baseurak Hall,' which is a medium-sized performance theater that can accommodate up to 100 persons, and the performances are given by amateurs, and professional performance teams that have been selected by the public, all for the submission by the Citizens Hall titled . Please book your ticket at the website of the Citizens Hall.
Public Ceremonies
We hold ceremonies to celebrate the important holidays with the citizens, including March 1st Day, Children's Day, Memorial Day, and Liberation Day. Join a variety of exciting programs, including performances, experience programs, and special exhibitions to bring special memories back home.
Exhibition
Dambyorak Media
The 66 monitors on six walls form a media wall space called Dambyorak Media. Every two months, new media artworks selected through 'Wave 2020 ~ 2021' are exhibited on the media wall.
Sound Gallery
Every two months, new video productions selected through 'Wave 2020 ~ 2021,' which is a public art submission program by the Citizens Hall, are presented at Sound Gallery, which provides five-channel videos and sounds.
Urban Photography Exhibition
Under the theme of the urban nature of Seoul, the selected photographic works chosen through a public call for submission for the citizens will be exhibited at the Citizens Hall and the underground passages at the City Hall Station. A workshop for the selected citizen artists is also provided.
Citizens Hall Gallery
The exhibitions of various themes in painting, installation arts, or media are selected through the 'Citizens Hall Spatial Support Program.' Special exhibitions by the Citizen Planning Group are also held. The gallery is also available for rent at an affordable charge to hold your exhibition.
Workshops and Campaigns
Healing Mind Campaign
A campaign for healing and self-discovery for the citizens who are exhausted by Covid Blue, etc., is planned by experts and participating citizens.
Workshop
A workshop for citizens concerning visual arts, sound arts, and modern dancing, planned by artists and focused on participation. It will provide an experience for the citizens to have a deep experience under the theme of body language, converged arts, communication within a family, etc.
Governance
Discretionary plans
The Citizen Planning Group, which is composed of the citizens who are selected every year for their unique ideas and skills to realize them, will be given a chance to present their work. The Citizen Planning Group is to plan and operate the program, while the Citizens Hall is to provide a certain amount of budget support, experts, and PR support.
Policy Cafe
The Policy Café is a program planned and executed by a Citizen Director who has accumulated experience as a member of the Citizen Planning Group. In this program, a citizen is given the empowering opportunity to plan the programs of the Citizens Hall.
Awareness Enhancement Project
For the enhancement of awareness of the Citizens Hall, we produce web content based on the interviews with citizen participants who worked with the Citizens Hall. And the contents produced via this program are published online.
Others
VR Citizens Hall
The space of the Citizens Hall is recreated in VR to provide spatial information. Every two months, the programs produced by the Citizens Hall, such as performances, exhibitions, and workshops, are provided via the VR Citizens Hall.
※ For more information on the programs, check out the Citizens Hall homepage.
Location
Address
110 Sejongdae-ro, Seoul City Hall B2, Jung-gu, Seoul
For more information, call