Introduction
A communal space for and by the citizens
The Citizens Hall is a communal space for the citizens to enjoy high quality performance and exhibitions, hold community meetings, and participate in the affairs of the City of Seoul, and located on the first and the second floors of the Seoul City Hall. It is designed as a convertible space that can serve various purposes for citizens including exhibitions, performances, debates, education, lounging, and play, as a space of "emptying" and "flexibility" to encourage citizens' participation. The B1 floor has three "Wide Open Lounges" for citizens' participation and the B2 floor has four halls including the Taepyeong Hall. All seven individual spaces can be rented out.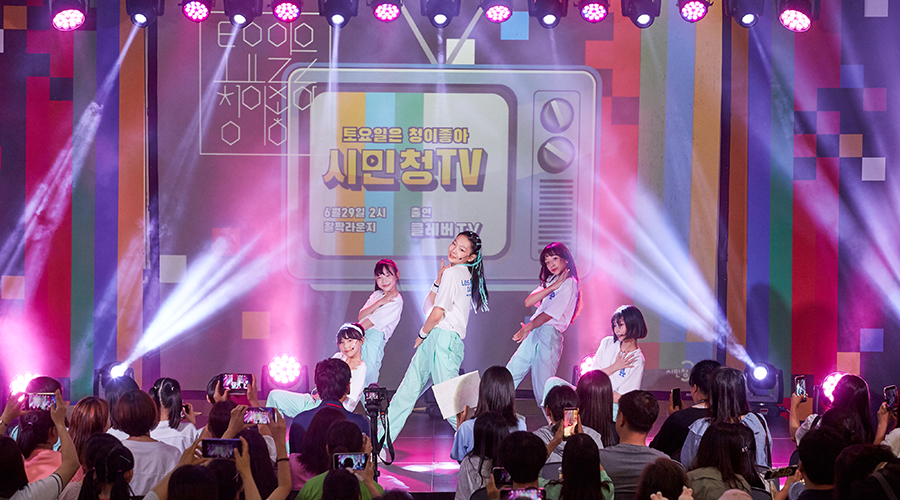 Topic
Slogan: Citizens' life venue which Seoulites make together and can enjoy together
Sub-title: Spaces of various expressions for various citizens
Working hours
Major features of the spaces in Citizens Hall
Name
Major services and programs
The first basement
Citizens Hall Information Center
Seoul Tourist Information Center
It provides information on Citizens Hall and various life and tour information on Seoul and is a one-stop information center for native and foreign tourists.
TokTok Design Store <danuri>
Products which social care enterprises like social enterprises and Pre-Bi centers made with their creative ideas are displayed and sold.
Dorandoran Cafe &
fair trade store Jigu Maeul
Cafe : Fair trade products are displayed and visitors can stop for a rest.
Citizens Plaza
It comprises the largest space in Citizens Hall and is a changeable multi-purpose space.
Various programs like Hanmaeum Salimjang, Citizens' Platform, Vitality Concert have been implemented.
Gungisi Relics Exhibition Hall
Relics and ruins which were discovered in Gungisi site while the new city hall was being built are displayed.
Sound Gallery
A sonic works gallery where visitors can appreciate through hearing and listening.
City Gallery
Includes a space to deliver the major policies of Seoul.
A Floating Cloud Gallery
Image works with no sound are displayed on the big screen on the ceiling.
Citizens Hall Gallery
A specially planned exhibition hall for photo exhibitions, painting and dance exhibitions, cartoon exhibitions and rental.
Seoul Bookstore
An exhibition hall to sell books related to Seoul in various themes, and to carry out a fairy tale narration program
The second basement
Taepyeong Hall
Holds a variety of policy discussions and major events like Citizens Hall wedding ceremonies.
Event Hall
Holds various events in which Seoulites can share pleasure like Citizens Hall wedding ceremonies (Traditional weddings).
Basrak Hall
A small-sized theater and concert room where small-scale performances and concerts are held.
Workshop Room
Holds diverse workshops and lectures where Seoulites are key participants.
Circle Room
Carries out children and adults experience programs and shows animations.
Major business
Debates and Lecture
| Name | Program introduction |
| --- | --- |
| Policy cafe | A civil participating policy improvement program where Seoulites gather in a comfortable cafe and partake in a discussion about social policy issues with which they have difficulties. One or two policy themes a month are selected and participation is applied through its homepage online. The outcomes are expected to be published in a policy book at the end of the year. |
| Sarangbang Workshop | A workshop program where big and small issues of daily life are discussed, which are made in various cultural content. In 2013, under the theme of Seoul and City, the workshop produced a documentary film with Seoulites and the film was shown at the Citizens Hall city film festival at the end of the year. In 2014, under a new topic, it plans to produce another film with Seoulites. Any Seoulite can participate in the Sarangbang workshops held once or twice a month. |
| Talk Concert | A flexible lecture-style program where luminaries are invited to share their visions and provide a chance to communicate. Music and video clips related to the lecture are employed. |
| Citizens Hall Academy | Arts experience programs: Friday Arts Class and Children TheaterAn experience program: Round playgroundA children's fairy tale narration program: Talking Bookstore |
Exhibitions and Experience
Name
Program introduction
Citizens Hall Gallery
A community based on various planned exhibitions and civil participation under the theme of Seoul and Seoulites' lives.
The gallery holds art exhibitions and rental exhibitions, whose spaces are made up of a variety of artworks including paintings, sculptures, installations and media. In addition, it hosts education programs connected to exhibitions, fit for appreciation and civil participation.
Sound Gallery
A space for sound arts under the topic of Seoul or sonic exhibitions which make the most of citizens' messages. 12 speakers of a Surround Recording System (5.1 channel) allow listeners appreciate artworks in three dimensions. Diverse artists participate to provide unique sonic exhibitions.
A floating Cloud Gallery
A space where media exhibitions under the topic of Seoul are held. 45 monitors installed on the ceiling of Citizens Plaza show media works. Community art exhibitions made through civil participation and specially planned exhibitions are expected to be underway.
A Wall Media &
Scribbling Table
A media wall which is to play a media role in Citizens Hall. Media exhibitions which make the best of 66 monitors and civil participation projects are expected to go underway in the future. In addition, the interactive scribbling table in front of A Wall Media is connected to a designated monitor so that artwork drawn by a visitor on the spot are shown on the monitor. It is an exhibition space which allows participants to have an experience in real time.
Performances and Events
Name
Program introduction
Hanmaeum Salimjang
An art market for handicrafts and design products and 'a life market' for local food and household goods from 8 provinces nationwide. In particular, the life market attracts Seoulites to buy local specialties from all over the country, . Those who would like to participate themselves can apply on the homepage.
Vitality Concert
The Vitality concert, which is planned to add vitality to the lives of Seoulites, is a permanent performance program made by Citizens Hall artists selected through auditions and Seoulites together. Performing arts in a variety of genres including music, plays and miming are held in the Full-Bloom lounge at lunch time/supper time on weekdays and weekends.
Basrak Concert
The Basrak Concert holds special performances in a variety of genres such as Citizens Hall artist concerts, musicals, operas and traditional performances. Basrak Concerts seat around 150 persons for free. The admission tickets are distributed at the Citizens Hall information desk on the day of the show. For a specially planned performance, those who would like to go in can apply for admission tickets on the Citizens Hall homepage in advance.
Going Together Event
<citizens ceremony wedding hall>
With the purpose of going together with the life of Seoulites from the beginning, it carries out Citizens Hall wedding ceremonies for the idea that Seoul takes a lead in fostering a beautiful wedding culture. In order to get rid of evil customs such as excessive wedding costs and vanity, the program planned a format for a small but meaningful wedding ceremony. Every Saturday ceremonies are held with the help of Seoulites who agree to the format.
Citizens' platform
A platform is set up for any Seoulite to express themselves freely under any topic. The citizen participation program allows a variety of expressions such as singing songs, playing musical instruments, dancing, painting, speeches, etc. The opinions suggested in the program may be reflected to right a wrong.
※ For more information on the programs, check out the Citizens Hall homepage.
Location
Address
110 Sejongdae-ro, Seoul City Hall B2, Jung-gu, Seoul
For more information, call