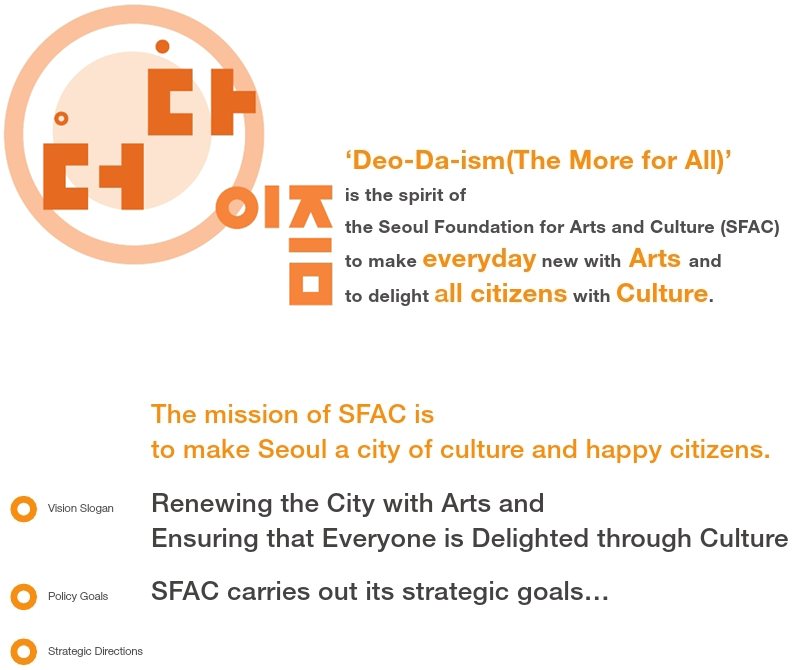 to design a
sustainable
eco-system
of arts

Strengthening the support system which provides space for creative activities for artists.

Establishing a system that supports artists to begin and continue their creative activities.

Supporting youth arts and arts projects for social change.

to bring
culture closer to
our daily lives

Initiating cultural projects in ordinary spaces like the subway.

Establishing measures to vitalize community arts activities and disseminate arts education.

Providing information on culture and spreading cultural values through various media channels.

to establish a
platform of
cooperation

Establishing a system to implement local policies on culture with autonomous districts.

Strengthening cultural partnerships with businesses and other public sectors.

Promoting domestic and international cultural policy exchanges.

to build
more trust

Creating a cooperation network to work with professionals in different disciplines.

Building staff capacity so that they become experts who work to their fullest potential.

Developing a cultural management system to fulfill cultural values.
Action plan
Put in place an arts support system in consideration of career stage
Boost a Seoul culture ecosystem via efficient operation of creative space
Make a rational improvement of the arts support system
Develop culture and arts in education and arts and healing models customized to Seoul
Systemize lifecycle stage-specific culture and arts in education support
Spread recovery and sympathy culture via participation in arts
Nurture civic culture in daily lives
Make Seoul more attractive with its unique contents
Increase opportunities for people in all walks of life to take part in culture.