Introduction
A communal space for and by the citizens
Citizens are welcome to visit the Citizens Hall, located on the 1st and 2nd basement floors of Seoul City Hall, as a space to enjoy high-quality performances and exhibitions, hold meetings with neighbors, and participate in the city administration of Seoul. The Citizens Hall was designed with the concept of space as "empty" and "flexible," so that it can attract diverse citizen-led activities for civic engagement of various purposes. It is convenient to use as it is directly accessible from Seoul Plaza as well as City Hall and Euljiro Stations.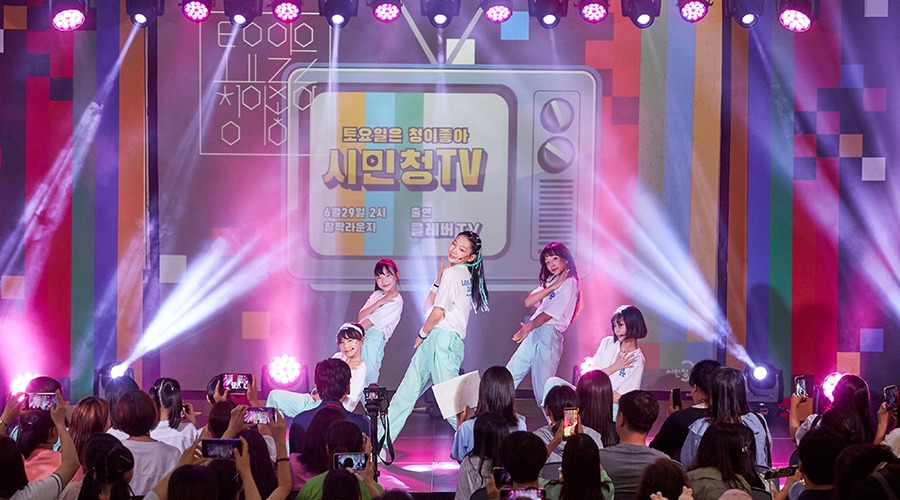 Topic
Slogan: Citizens' life venue which Seoulites make together and can enjoy together
Sub-title: Spaces of various expressions for various citizens
Working hours
Winter (Nov–Feb) 09:00~20:00
Summer (Mar–Oct) 09:00~21:00
※ Closed on New Year's Day, Seollal, Chuseok, and last Sunday of every month
Major features of the spaces in Citizens Hall
Name
Major services and programs
The first basement
Citizens Hall Information Center
Seoul Tourist Information Center
A general information center that introduces and provides information on the Citizens Hall along with a tourist information center where you can get information on cultural tourism and travel in Seoul.
Citizens Gallery
A space for rental and special exhibitions on various themes, such as paintings and installations, cartoons and recycled works, held once to twice a month.
Media Wall
A space that provides opportunities for free expression and relaxation for citizens with six media walls.
Cloud Gallery
A special exhibition space that allows visitors to view video images organized around the theme of Seoul and the lives of its citizens on multiple monitors installed on the plaza ceiling.
Sound Gallery
A sound exhibition space equipped with a surround acoustic system to allow visitors to listen to and enjoy rich sounds, representing the identity of the Citizens Hall as a place of listening.
Gungisi Relics Exhibition Hall
Relics and ruins which were discovered in the Gungisi site while the new city hall was being built are displayed.
Open Lounge
An open space for citizens to meet and relax where various programs, such as "Dynamic Concert" and "Saturday at the Hall," are held.
Citizen Plaza
A space for citizens to participate in events, such as special events and rental exhibitions, and the largest multi-purpose space in the Citizens Hall.
Smart Seoul Exhibition Hall
A space where you can learn about smart city services in the citizens' daily lives with the theme of "Seoul, a city where citizens' lives are changed based on data." It comprises four themes: "Collecting Seoul," "Discovering Seoul," "Changing citizens' lives," and "Make it together."
Seoul Bookstore
An exhibition hall to sell books related to Seoul base on various themes, and to carry out a fairy tale narration program
The second basement
Taepyeong Hall
A space remodeled after the original Taepyeong Hall of the former Seoul City Hall, where various citizen participation activities, such as weddings, take place
Baseurak Hall
A multi-purpose space equipped with sound, lighting, and video facilities that can hold citizens' activities in various fields, such as plays and concerts.
Workshop Room
A space specifically designed for participatory programs, such as educational programs and seminars.
Circle-shaped Room
A circular space with moving walls that can be opened and closed, used for small-scale civic participation activities, such as education and experience programs.
Main Programs
Discussionsand Lectures
Name
Program introduction
Everyone can be an Artist
"Everyone can be an Artist" is a program where you can enjoy a hands-on experience in a variety of art genres. It features a choice of learning programs offered through organizations selected through a public call for program providers. You can sign up for a program by applying ahead of time at the official Seoul Citizens Hall website.
Policy Cafe
"Policy Cafe" is a project directly planned and operated by citizen directors with prior experience working with the Citizen Planning Group.
This citizen directors project helps identify agenda items proposed by the public, and provides an opportunity for people to play a leading role in shaping our culture.
My Speed Workshop
"My Speed Workshop" is an online workshop designed to heal the minds and hearts of people that aims to help users re-establish their sense of self and build empathy with others under the difficult circumstances imposed on our society by COVID-19.
Awareness Improvement
Project
Led by the Citizens Planning Group, the "Awareness Improvement Project" is an online podcast project that is organized and run by the public to help people discover who they really are.
Performancesand Events
Name
Program introduction
Listen on Saturday
"Listen on Saturday" which gets under way on the last Saturday of every month, is a signature public event organized by the Seoul Citizens Hall that encourages people to participate in various programs, such as special performances by famous artists and citizen artists of various music genres, campaigns planned in collaboration between public and private organizations, special exhibitions, and immersive programs.
Hanmaeum Flea Market
"Hanmaeum Flea Market" is an "art market" for handicrafts and design products made by Seoulites, and a "communication market" where people can participate in a variety of immersive cultural programs. As for handicrafts and various cultural programs, the Hanmaeum Flea Market features not only items made by citizen participants, but also free immersive events for people, making it a marketplace that truly invites the public to take part in the proceedings together. Anyone looking to participate in the Market can apply through the official website.
Energy Concert
The "Energy Concert," organized to give the public a chance to relax and reinvigorate themselves with various performances and cultural programs, is a permanent cultural program hosted by the Seoul Citizens Hall. It injects energy into the public with performances involving genres such as music, theater, and dance.
Baseurak Concert
The "Baseurak Concert" is a special concert with hands-on components for Seoulites to revitalize the performance culture across the city. It is organized by an art team featuring citizens selected through a public competition process. The Concert can seat up to approximately 150 people, and tickets are available for free at the Baseurak Hall (B2F, Seoul Citizens Hall) on the day of the Concert. For special concerts, you need to apply in advance on the official Seoul Citizens Hall website.
Holiday and Anniversary
Events
The Seoul Citizens Hall organizes events to celebrate national holidays and anniversaries, such as Seollal, Chuseok, March 1st Independence Movement Day, Children's Day, Memorial Day, and National Liberation Day, together with its citizens. These events often feature special concerts, immersive programs, special exhibitions, and other culture and art programs that invite people to play a hands-on role in celebrating various national holidays. In particular, taking part in programs with your entire family is a great way to create some unforgettable memories.
Seoul Citizens Hall
Wedding Reception
As part of its efforts to better accommodate the lives of its citizens and build a "better wedding culture across Seoul," the Seoul Citizens Hall hosts wedding receptions for Seoulites getting married in Seoul. In order to improve the current wedding culture marred by prohibitive costs and unnecessary formalities, Seoul Citizens Hall create a format for a "small but meaningful wedding reception." Using this format, it hosts wedding receptions for Seoulites who sympathize with Seoul Citizens Hall's efforts at its Taepyeong Hall (every Sunday, the second Saturday of every month) and Seoul Institute (every Saturday during available periods).
Exhibitions
| Name | Program introduction |
| --- | --- |
| Seoul Citizens Hall Gallery | The Seoul Citizens Hall Gallery hosts various special exhibitions revolving around the theme of Seoul, or rents its exhibition space out to the public for programs of public interest and civic participation. It showcases a wide range of art works, including paintings, sculptures, installations, and media art. Furthermore, the Gallery offers immersive programs linked to its exhibitions, and features spaces designed to provide outstanding viewing experiences and facilitate public participation. |
| Urban Photo Exhibition | The "Urban Photo Exhibition" is a photography contest and exhibition program organized in order to communicate and interact with Seoulites through photos submitted by the citizens themselves. |
| Cloud Gallery | With 45 monitors installed on the ceiling, the Cloud Gallery gives people a chance to enjoy leisurely breaks with a window into the sky from all the way down on the basement floor of the Seoul Citizens Hall. |
| Wall Media | "Wall Media" is a media exhibition space located in the center of the Seoul Citizens Hall with a total of 66 installed monitors. It hosts various public exhibitions organized through public competitions and programs utilizing different forms of media. |
| Sound Gallery | The Sound Gallery is a space where exhibitions using various "sounds" and "images" are organized to suit the identity of the Seoul Citizens Hall, which champions the value of "listening." Thanks to a surround system audio facility, visitors can enjoy a much more dynamic viewing experience. |
※ For more information on the programs, check out the Citizens Hall homepage.
Location
Address
110 Sejongdae-ro, Seoul City Hall B1, B2, Jung-gu, Seoul
For more information, call